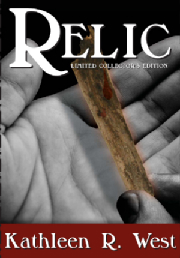 Get This Limited Edition While You Can
Our newest author, Kathleen R. West, has asked us to create a special, limited collector's hardcover edition of her first book
Relic
so that she can donate 100 percent of her profits on the special edition to her favorite charity
Good Samaritans of Garland
. Ms. West also happens to be the Executive Director of Good Samaritans, and it has been her dream for years to publish this book as a fundraiser.
Click here for more information on Good Samaritans of Garland.
Available For a Limited Time
The Limited Collector's Hardcover Edition of Relic will not be available in stores. It is only available by pre-order. Get your Collector's copy before the standard edition is available in bookstores!
You can reserve your copy using our convenient online ordering process; just click "Buy Now" to pre-order your copy (copies) of Relic. After you review your shopping cart contents, you will be asked for your credit card information. This transaction is completely secure.
All copies will be personally autographed by the author
To make sure you get a copy of the Relic Limited Collector's Edition, click "Buy Now" below and order as many as you'd like. You can enter special Autographing Instructions so that the author can personalize your copies. If you need more space than the "Autographing Instructions" box allows, use the "Special Instructions to Seller" link when you are at the checkout screen.
Note that we use Paypal for payments, but you do not need to have a Paypal account to purchase. At the checkout screen, look for "Don't Have a Paypal Account" and click the Continue link. You will be taken to a screen where you can securely enter your shipping and billing information.
Free Gift with Every Purchase!
A CD with music by award-winning trumpet player Stacy Blair, including a special rendition of The Old Rugged Cross recorded specially for this book and not available elsewhere, is included with each copy of the book you purchase. The CD also includes several classics performed with the Jean-Francois Paillard Chamber ORchestra. Blind since birth, Stacy Blair is the first winner of the Maurice Andre International Trumpet Competition.
---
Get Relic Stuff!
Click here
to get Relic T-Shirts and other great gift items!
---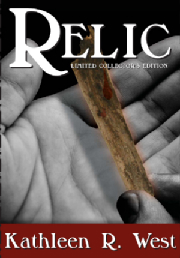 Paul Grant doesn't believe in many things. A strange relic, a haunting dream, and the death of a child take him on a dangerous journey for the truth--a truth he may not be prepared to accept.
Collector's Hardcover Edition Includes Free Gift!
ISBN: 978-0-9765337-2-6
Price: $35.00 (plus sales tax and shipping)

Frequently Asked Questions
I want to have a gift copy shipped to another address. How can I do that?
I have a Paypal account: See this help link on the Paypal site.
I don't have a Paypal account: Use the "Special Instructions to Seller" link on the checkout page and give us your special shipping address and instructions.
Why do I need to pre-order...why can't I just wait until the books are printed and buy one then?
Because this is a limited, special collector's edition of Relic, we need to gauge the demand and adjust our print run accordingly. While we should have some extra books after pre-orders are filled, there is no guarantee that you will be able to get one unless you pre-order your copy or copies.
I don't like paying for things online...do you have an address where I can mail a check?
Certainly. Although our online ordering process is 100% secured by Paypal, you can send a check if you prefer. Make your check out to Bottom-Up Media and send it to:
Bottom-Up Media
13410 Preston Road Suite C-379
Dallas, TX 75240

Please add 8.25% Texas sales tax (for a total of $37.89 per copy). Add $3.95 per copy for shipping (unless you plan to pick the book up at Good Samaritans of Garland when it is available). If you wish you may include a note specifying how you would like the book autographed.